Close
Shopping Cart
Your Cart is Empty
TAKE A FULLY
assembled invitation suite to the post office and get it weighed.
PURCHASE POSTAGE
for your return envelopes and your assembled invitations.
AFFIX THE POSTAGE
on the return envelopes and outer envelopes.
TAKE YOUR INVITATIONS
to the post office and ask the Postmaster to "hand-stamp" your invitations. This is a free service and will lower the risk of your invitations getting blemished.
ENJOY
getting your responses back in the mail.
DO NOT FORGET
to put an invitation aside for your photographer to take a picture of
on your Wedding Day.
SEND ME A PICTURE
If you send me a picture that your photographer took of your
wedding invitation, I will send you either a $10 Starbucks card or a
$15 I Do! gift certificate! 
Any Questions
610-804-2420 -voice or text / [email protected] 
by Esther Lee
Between group gathering restrictions, social distancing guidelines and discouraged travel, couples are now left with the task of having to face new realities with their events moving forward—and that involves their guest lists. Given the coronavirus pandemic's impact on weddings around the world, some to-be-weds will be faced with the task of having to whittle down their original guest count, and there's basic etiquette around this step.
"Acknowledge the elephant in the room as soon as possible," says event planner Lauren Schaefer of Your Wedding by Lauren. "As soon as you're comfortable doing so, send a message to your current guest list or post on your wedding website acknowledging the pandemic, letting guests know you're weighing your options and considering everyone's safety regarding your wedding."
Since the situation can be uncomfortable and tricky to address, read on for wedding guest list etiquette and how to best navigate adjustments amid COVID-19. There are ways to approach your loved ones gracefully and tastefully, even as it involves pivoting your plans.
Talk to Your Vendors First
This is the first step to take before even adjusting or addressing your guest list. If you have a planner, talk to this pro directly about how they would recommend navigating this situation, given restrictions are different per county. From there, ask how best to approach the conversation. Either your chosen pro team will reach out to guests directly (some offer this service, really!) your venue coordinator will explain guest list limitations, which you can then communicate to your guests.
Talk to Family Members and Your Wedding Party
You have your squad and your family members on board, but what happens if they're located in different countries where travel restrictions remain in place or they'll have to self-quarantine depending on proximity? Reach out to your core loved ones first about realistic expectations regarding your wedding date. Some guests may not necessarily feel comfortable traveling at this time, so have the important conversations to gauge the comfort level of your loved ones first and foremost.
Start Sooner Than Later
Wedding websites have never been more helpful than during COVID-19, because it's a resource where you're able to effectively communicate with guests as the situation is ever changing by state. By telling guests you're considering options and keeping their safety and health in mind, they will feel assured about any decision you ultimately reach. But the important move is to give them the emotional buffer and time to see it from your end.
Once you've made your choices, start reaching out. "From there, guests can mentally prepare for an alteration in the wedding plans, whether that be postponement, lessening the guest count or other," says Schaefer. "This will also limit the number of text messages you get from folks asking what your plans are."
Set Expectations With Yourself… and Your Guests
It's important to remember you're grappling with mourning the loss of what you had originally envisioned for your wedding: whether it be the original date you had arduously planned towards, or the sheer capacity of your guest list. It's all fair. Talk through it with your partner and mourn this together, then set expectations about your wedding postponement and the guest list between yourselves.
From there, have the conversations and be as thoughtful as possible. There are, however, a few points to consider as you're reaching out to loved ones to help you overcome any sense of dread. "To note, this is no longer a surprise. While having to whittle down your guest list is heartbreaking and you don't want to hurt anyone's feelings, limiting crowds are not a new restriction at this point and we continue to hear about limiting social gatherings everyday," says Schaefer. "Your need to whittle down your guest count will most likely not come as a surprise to your guests. They might even be expecting it."
Remember: It's How You Communicate
Obviously, the guest list trim is a bummer from both ends. But there is a way to lovingly communicate the letdown to your loved ones. "When letting guests know that due to size restrictions, they are no longer able to attend your wedding in person, remind them that you still love them very much," says Schaefer. "It is because you love your guests so much that you are taking the safety precautions needed to ensure everyone's well being."
Include That Virtual Element
Since guest list adjustments are increasingly prevalent depending on where you plan to host the wedding, the industry collectively has seen a rise in virtual elements integrated into various events. In fact, some pros are leaning into it, such as planner Amy Shey Jacobs whose virtual party planning brand Don't Let the Day Go By helps couples source digital photo booths and inventive streaming options.
"What I don't think most people realize is that the virtual event experience is actually two-way television," says Jacobs. "What translates in person at an event works very differently when you don't have a live studio audience, right? So the services and partners we are working with need to be dynamic and TV ready: I am spending a lot of my time auditioning, preparing and curating the best pros who have the most engaging experiences with the right tools in a virtual environment. To that end, the virtual experience needs to be interactive. The people make the party!"
To that end, Jacobs even has a virtual speakeasy where mixologists will create signature cocktails for guests (you can send cocktail kits to those who can't be at your wedding in person). "We are working with partners on wedding invitation suites and programs that are sent to the guests, along with floral, linen and food," she explains. "I mean, how cool is it to send a mini cake to each of your guests home so they can share in the experience?"
Define Your Wedding Structure to Your New Guest List
It's true: weddings after COVID-19 will look slightly different. This means educating and informing guests about how you are mitigating risk and being thoughtful about their health and safety at your particular event.
"Define your structure for who is on the smaller guest list," says Schaefer. "If you and your partner can make clear parameters for how to whittle down your guest list, this will both assist you in this very hard decision and provide additional understanding for those that couldn't attend in person. Whether you keep the in-person guest count to only family, only locals, or four guests per betrothed, providing structure keeps things fair and clean."
Be Thoughtful About How You Share Photos
By now, most couples have grappled with the heartbreak of postponing their weddings, and your loved ones likely know and share in your disappointment. If you've had to trim your guest list due to COVID-19, there are considerations to bear in mind, including social media posts.
Since it's a special day for you, the couple, your original guest list will want to celebrate regardless. A thoughtful way to approach this step is by sharing images from your wedding day first with all your guests before distributing them further across social media accounts. That way, even though you've had to scale back on your guest list, those chosen recipients will still feel as if they were part of your day.
On social media, consider the types of imagery you're sharing to avoid further emotional bruising. "There is no quicker way to create FOMO than to post photos of your most special day for the world (and all your guests that couldn't attend) to see," advises Schaefer. "Of course, celebrate your love and your partner, but limit the number… especially those photos including guests in attendance."
by The Knot
Life can throw a lot of lemons at you—especially during the emotionally heightened process of wedding prep—and it's not always something you can easily turn into lemonade. Relationships can change, possibly leading to a falling out or feelings of tension between you and a friend or family member. Unforeseen events, such as natural disasters and other unexpected incidents, can unfold, leading to additional complications with guest lists. It's rare, but every once in a while a couple (or one partner) might have to uninvite someone (or larger portions of their guest list) after they've already asked them to attend the wedding. But is it ever okay to even broach the topic of how to uninvite someone to a wedding?
Traditionally, uninviting a wedding guest who's already received a save-the-date or wedding invitation is in poor taste. And we don't mean that to sound snooty—it just simply isn't kind or polite (no matter how impolite the person you want to uninvite has been). A save-the-date is essentially a promise that an official wedding invitation is on the way, and a wedding invitation isn't something you can rescind on a whim (or that guests can transfer to one another like tickets). Here are a few things to keep in mind if you're going through a tricky time with someone you've already invited.
How to Uninvite Guests Due to a Disaster
It's now a familiar tale to many couples: Due to COVID-19, tens of thousands of couples had to postpone their weddings each weekend, ultimately leaving many to-be-weds with guest-list complications. If this situation applies to you (whether it's a natural disaster that's caused a venue change) or some other unexpected curveball in the wedding planning process, we recommend communicating with guests as soon as possible. If you have to uninvite large portions of your guest list, it's better to relay it sooner than later. And remember: it's how you communicate.
Be Very Thoughtful About Your Guest List
Due to general standards of wedding invitation etiquette, it's infinitely easier to add to your guest list than it is to subtract from it. When creating your guest list, think long and hard about whom you choose to include. If budget restrictions or venue capacity are the reason you're tempted to downsize your headcount, it's perfectly okay to create an A list and a B list of guests. Much better to use this strategy than to overshoot on invites and have to revoke them later.
Have Some Foresight
Disinviting someone will make it hard to salvage your relationship—even harder than it might currently be—and will only create more drama. If you're questioning someone's invite, remember it might be worth grinning and bearing their attendance at your wedding in order to be able to mend your relationship down the line. And even if you might want to uninvite them in the heat of the moment, you might genuinely regret not having them around on your day.
Use Your Words (Preferably in Person)
Confrontation isn't everyone's forte, but in some circumstances, having a mature conversation about what's going on between you two is a necessary step toward resolution. Maybe you've had a falling out with a friend, a fight with a cousin or skeptical feelings about a family member's potential behavior at your wedding. Pick up the phone or knock on their door to have a frank talk about what you're both feeling and how to proceed. If the situation is inflamed enough, it's possible the person in question might change their mind and decide not to attend the wedding. (It might not be ideal, but in that case you'd be in the clear.)
The inner and outer envelope is a tradition.
Years ago mailmen traveled around on horseback, not in trucks, and chances are that your wedding invitation would arrive at their destination dusty, wet, or damaged was highly likely. To ensure it looked presentable, the outer envelope was removed by a butler, maid, or someone else in the household before being presented to the potential guest.
 Difference between inner and outer envelopes.
If you get just outer envelopes it is addressed to the guest and mailing address. And if you get inner and outer envelopes it is addressed exactly to who is invited to the wedding. (Inner envelopes do not get sealed.)
 If you decide to do inner and outer envelopes:
-You can be very clear on who is being invited to your wedding if you use an inner and outer envelope. Inner envelopes help eliminate the potential for any awkward questions about who is invited.
-Having both envelopes are more traditional. If you are having a black tie, classic or formal wedding you may want to have both envelopes to abide by wedding etiquette.
Samples of how they'd be addressed:
Outer Envelope – Mr. and Mrs. Mark Osiecki, Inner Envelope – Mr. and Mrs. Osiecki
Outer Envelope – Osiecki Family, Inner Envelope – Mr. and Mrs. Osiecki, second line - Matthew
The names of children under 18 years old should appear on the inner envelope on the line beneath Mom and Dad's. Start with the oldest child, followed by his or her siblings in order of diminishing age; for anyone 18 or older in a household, send a separate invitation.
Outer Envelope – Matthew Cattie, Inner Envelope – Mr. Cattie and Guest
If you decide to do just outer envelopes:
Put the outer envelope to work by listing the names of every person invited to the wedding. Avoid writing "and Family," which is too vague and could mean extra guests showing up at the wedding whom you weren't expecting or can't afford.
There's no right or wrong way.
If you like the tradition, go for both, but if you worry that an extra envelope is a strike against the environment or an added expense, just use the outer one. It is truly up to you. There's no rule that says you need both inner and outer envelopes, and most guests won't realize you are or are not following tradition.
Either way we will guide you on how to address each envelope with the correct etiquette. And we are always here for any questions!
Short answer - Yes.  Anything can be rushed.
Side note - There will be an additional charge.
Question - We sent out invitations for our April wedding at the beginning of March and at the end of March had to postpone to the end of June. We sent "change the date" but we didn't know what would be happening. 
We are hoping to have a cermony and reception at the end of June. Do we have to send new invitations? Is there something simpler we can do to make sure people know our plans and RSVP?
Answer - You do not need to send out new invitations. You already set the stage with your beautiful invitations that you already sent out.
Some things you can do are:
-Send a postcard with the basic information and your wedding website (get one for free if you don't have one already on The Knot, Wedding Wire or Zola). They can RSVP on-line. You could also add a phone number and/or email address to rsvp too (depending on your demographics of your guests). 
-You could also send a Seal n' Send invitation. (See my You Tube video about Seal 'n Sends.) You could send a lot more information then the postcard and get a postcard reply back. (.55 cents to send the seal 'n send and .35 for the postcard reply stamp).
-You could (or have parents help) and call guests to tell them the new information.
-You could email your guests or start a Facebook group for updates.
I can tell you that we have an affordable style line and this is where you will find invitations that start around $200. (For 100 invitations.)
And then the sky is the limit!  If you can dream it, we can do it!
You can look at some other lines by clicking here and here.
 Things to keep in mind that affect the price:
-Quantity
-Are you getting married at your venue (if so you do not need a reception card)
-Type of printing (digital, raised print, letterpress)
-Type of paper (smooth, shimmer and the thickness)
-Do you want them addressed to your guests ($1 per envelope)
Tell us what you are looking for and we can get you an estimate for you.
Also, no matter which invitation you select I will help you with every step and wedding etiquette guidance!
By Carlson Craft
We can only imagine how disappointing current events are for all couples getting married in the next two months. The coronavirus has turned so many things upside down, and now you're left choosing how to move forward.
Should we reduce our guest count or postpone the wedding?
Of course, the answer depends on the couple and what they feel is most important to them as well as whether or not vendors will refund money or be flexible. Read our post from Friday called Wedding Planning: Addressing the Unexpected for some helpful tips.
Once you've decided what you want to do, the next step is communicating it. If you're postponing your wedding, traditional wedding etiquette says to send out printed announcements but the use of technology is completely acceptable. If you choose to send announcements, you can send reception cards with the appropriate wording (see below) but make sure the announcement gets to recipients at least two weeks before the wedding date. If you choose to use email, Facebook or some other form of technology, you can use the same wording.
Wedding Postponement Wording
We are writing to inform you
 that the wedding of Anna Wilkinson and Cameron Baker
 has been moved due to recent events
 to Saturday, the eighth of October
 so we can celebrate without current restrictions
 we wish you good health
 in the coming months!
If you have decide to reduce your guest count, consider this wording.
 Reducing Guest Count Wording
We regret to inform you
 that due to current events
 the guest list for the wedding of
 Anna Wilkinson and Cameron Baker
 will be reduced to accommodate
 current recommendations from the CDC
 please know we were so excited
 to celebrate with each of you
 and hope to do so in some other fashion
 in the very near future
 until then we wish you good health
 in the coming months!
No doubt, this is a tough decision! Some couples may feel strongly that they want to celebrate with everyone on their list or they may find they simply can't reschedule at the same venue within the year. Postponing is a great option for both reasons. Other couples may feel that the most important thing is simply saying their vows and they're happy to do that with 10 people or 200. Do what's right for you, and remember that your wedding will still be incredibly special no matter what changes may come.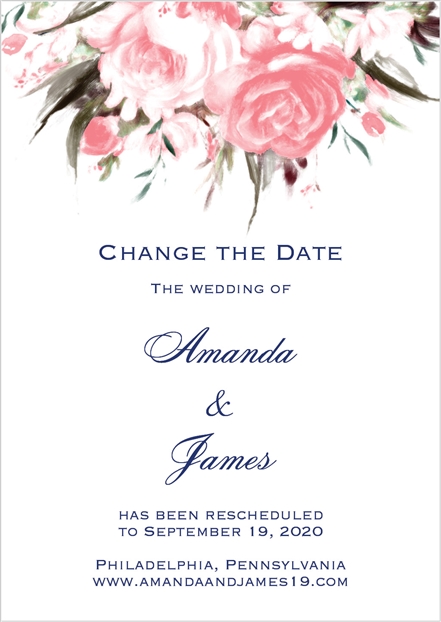 Here's how to handle that friend who won't stop asking where their invite is.
by Rachel Torgerson
One of the hardest aspects of planning a wedding is figuring out the guest list. Feeling like you can only invite a small percentage of your acquaintances to such an important life event can be extremely difficult, especially if you need to face the friends you can't or won't invite between now and your wedding day.
When it comes down to it, friends experience relationships in different ways — someone may feel close to you, despite years out of touch, when you don't feel close to them at all. That's what makes this topic such a delicate one. Under no circumstance do you want someone who isn't invited to feel like you are cutting them out of your life because they didn't receive an invite to your wedding.
But there's a general thing you can say that helps soften the blow every time. It works like a charm because it's true and it also makes the person you're asking look bad if they persist. What's the trick? Tell whoever is asking you that you wish you could celebrate with everyone you know -- that would be so fun! But, because your budget is tight, or because the space is limited, you had to keep things smaller than you initially wanted. Pretty easy, right?
Here's how it works in pretty much every scenario:
The Scenario: A friend you haven't kept in touch with
The Scene: Most likely, this person knows that you've fallen out of touch, but they might want to get back in touch with you for the purpose of getting invited to the wedding. This is typically pretty transparent. They'll reach out to you after you get engaged, like all of your engagement photos and send you a well-meaning message congratulating you and "catching up." This could be entirely sincere — they may have seen you pop up in their newsfeed and just genuinely want to know how you've been. Either way, you've got a situation on your hands. Someone who you genuinely like and have felt close to is reaching out again, and you'd love to include them, but budget-wise or space-wise you just can't afford to invite them.
The Script: Stick with the simple truth: You're so happy they reached out to you, and excited to get back in touch. Fill them in on your life since you last spoke and ask them questions about theirs. If they ask you about the wedding, tell them about the budget and space constraints, but make it clear that you still want to hang out soon to celebrate and catch up even more. Say that you'd love to make a trip out of seeing them with your new spouse (if they live far away) or you'd love to have a couples night to celebrate the wedding with them to make them feel special (if they live in town).
So, what happens next?
These are your friends, no matter how long it has been since they last talked to you. They'll be excited to see you happy, and they'll be understanding. The fact that you can't invite them will blow over, and they'll still want to catch up later on.
The Scenario: A boss or coworker
The Scene: Clearly you're going to have to deal with your boss and coworkers on a fairly consistent basis up until the day of your wedding. Just to be conversational, they'll ask you questions about your planning process, and that's normal. But as your wedding date gets closer, they may start to hint that they want to come to the wedding. If you're not close to your coworkers, or you simply don't have the budget to invite everyone from work that you like, first thing's first: You don't have to invite anyone from work. The second thing to keep in mind: Inviting one person from work doesn't mean you have to invite everyone.
The Script: Now that we've cleared the air, how in the world do you keep the peace at work and explain things to the people who aren't invited? Yep! It's time to give them the line about your budget. If it seems like a broken record, that's only on your end. No matter how many people ask you about being invited to your wedding, this answer always works simply because it is true.
So, what happens next?
Now, schedule an after-work happy hour post-honeymoon and everyone will be satisfied.
The Scenario: A relative you aren't close to
The Scene: This is a tougher one, because it involves family, and while you may not be particularly close to a relative of yours, inviting them might mean a lot to your parents, or other close relatives. In this case, the person you have to reason with is your parents (or whomever you think could potentially have a problem with you not inviting this relative). It becomes especially important to explain yourself to them if they're the ones paying (which means they have the right to invite the guests they want to invite).
Take your parents to a lunch and explain your thought process. Was there a falling out? Have you not spoken in a while? Many times, even if you're not as close to a family member, you have to have a pretty good reason not to invite them to a wedding. We're not talking about second cousins here, but first cousins, aunts, uncles and the like are pretty typical A-listers when it comes to wedding invitations. This just means you'll have to jump through a few hoops to get off the hook of inviting them.
The Script: Don't talk about budget and space issues with your parents, they know that there are very real other reasons as to why you don't want to invite this particular relative and you just have to sort it out between the two of you. If there's ever a moment where this relative confronts you about not receiving an invite, that's the time to talk budget and space.
So, what happens next?
If they ask you why so-and-so relative is invited, and they aren't, you'll have to get your parents involved so they can put out fires. The last thing you want to do is get caught in the middle of family drama during your planning process. Since your parents may have a better relationship with this relative anyway, this conversation is probably best coming from them. If things get resolved peacefully, you can be extra nice to them at the next family reunion and introduce them to your new spouse in a friendly way.
Question:
When should we make our response deadline for our RSVPs?
Answer:
We recommend making your RSVP date around three weeks before your wedding date. This will allow you enough time to get your final head count (and entree count if needed) to your caterer. This will also give you time to finalized your seating chart and get your place cards ready. (I Do! can have your guest's names printed on the place cards during this time too.)
If some guests have not responded by your deadline, you will need to give them a call ask for their RSVP.
/