Close
Shopping Cart
Your Cart is Empty
by The Knot
Life can throw a lot of lemons at you—especially during the emotionally heightened process of wedding prep—and it's not always something you can easily turn into lemonade. Relationships can change, possibly leading to a falling out or feelings of tension between you and a friend or family member. Unforeseen events, such as natural disasters and other unexpected incidents, can unfold, leading to additional complications with guest lists. It's rare, but every once in a while a couple (or one partner) might have to uninvite someone (or larger portions of their guest list) after they've already asked them to attend the wedding. But is it ever okay to even broach the topic of how to uninvite someone to a wedding?
Traditionally, uninviting a wedding guest who's already received a save-the-date or wedding invitation is in poor taste. And we don't mean that to sound snooty—it just simply isn't kind or polite (no matter how impolite the person you want to uninvite has been). A save-the-date is essentially a promise that an official wedding invitation is on the way, and a wedding invitation isn't something you can rescind on a whim (or that guests can transfer to one another like tickets). Here are a few things to keep in mind if you're going through a tricky time with someone you've already invited.
How to Uninvite Guests Due to a Disaster
It's now a familiar tale to many couples: Due to COVID-19, tens of thousands of couples had to postpone their weddings each weekend, ultimately leaving many to-be-weds with guest-list complications. If this situation applies to you (whether it's a natural disaster that's caused a venue change) or some other unexpected curveball in the wedding planning process, we recommend communicating with guests as soon as possible. If you have to uninvite large portions of your guest list, it's better to relay it sooner than later. And remember: it's how you communicate.
Be Very Thoughtful About Your Guest List
Due to general standards of wedding invitation etiquette, it's infinitely easier to add to your guest list than it is to subtract from it. When creating your guest list, think long and hard about whom you choose to include. If budget restrictions or venue capacity are the reason you're tempted to downsize your headcount, it's perfectly okay to create an A list and a B list of guests. Much better to use this strategy than to overshoot on invites and have to revoke them later.
Have Some Foresight
Disinviting someone will make it hard to salvage your relationship—even harder than it might currently be—and will only create more drama. If you're questioning someone's invite, remember it might be worth grinning and bearing their attendance at your wedding in order to be able to mend your relationship down the line. And even if you might want to uninvite them in the heat of the moment, you might genuinely regret not having them around on your day.
Use Your Words (Preferably in Person)
Confrontation isn't everyone's forte, but in some circumstances, having a mature conversation about what's going on between you two is a necessary step toward resolution. Maybe you've had a falling out with a friend, a fight with a cousin or skeptical feelings about a family member's potential behavior at your wedding. Pick up the phone or knock on their door to have a frank talk about what you're both feeling and how to proceed. If the situation is inflamed enough, it's possible the person in question might change their mind and decide not to attend the wedding. (It might not be ideal, but in that case you'd be in the clear.)
By Carlson Craft
We can only imagine how disappointing current events are for all couples getting married in the next two months. The coronavirus has turned so many things upside down, and now you're left choosing how to move forward.
Should we reduce our guest count or postpone the wedding?
Of course, the answer depends on the couple and what they feel is most important to them as well as whether or not vendors will refund money or be flexible. Read our post from Friday called Wedding Planning: Addressing the Unexpected for some helpful tips.
Once you've decided what you want to do, the next step is communicating it. If you're postponing your wedding, traditional wedding etiquette says to send out printed announcements but the use of technology is completely acceptable. If you choose to send announcements, you can send reception cards with the appropriate wording (see below) but make sure the announcement gets to recipients at least two weeks before the wedding date. If you choose to use email, Facebook or some other form of technology, you can use the same wording.
Wedding Postponement Wording
We are writing to inform you
 that the wedding of Anna Wilkinson and Cameron Baker
 has been moved due to recent events
 to Saturday, the eighth of October
 so we can celebrate without current restrictions
 we wish you good health
 in the coming months!
If you have decide to reduce your guest count, consider this wording.
 Reducing Guest Count Wording
We regret to inform you
 that due to current events
 the guest list for the wedding of
 Anna Wilkinson and Cameron Baker
 will be reduced to accommodate
 current recommendations from the CDC
 please know we were so excited
 to celebrate with each of you
 and hope to do so in some other fashion
 in the very near future
 until then we wish you good health
 in the coming months!
No doubt, this is a tough decision! Some couples may feel strongly that they want to celebrate with everyone on their list or they may find they simply can't reschedule at the same venue within the year. Postponing is a great option for both reasons. Other couples may feel that the most important thing is simply saying their vows and they're happy to do that with 10 people or 200. Do what's right for you, and remember that your wedding will still be incredibly special no matter what changes may come.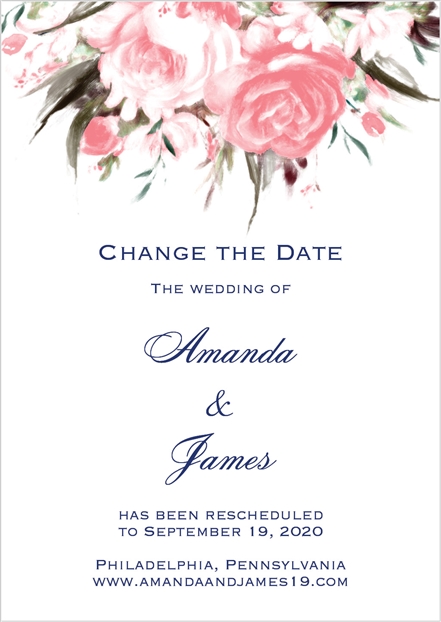 Thank you note etiquette It is always appropriate to send a hand-written thank you card when you receive a present. The basic guideline is that you should always write a thank you note anytime you receive a gift and the giver was not there to be thanked in person.
Here are some specifics:
Engagement or Bridal Shower - Even if the gift giver attended the party in your honor and you had a chance to say thank you for the gift, a hand-written thank you note should still be sent to giver.
Wedding - Within three months of when you received the wedding gift it should be acknowledged with a hand-written note. If you are delayed, better late than never is the rule. It is good practice to send a thank you note as soon as possible after a gift arrives. Even if someone just sends you a card to congratulate you on your marriage, you should send a note in return. What to write: -Be personal. -Convey genuine appreciation. -Be specific about their kindness. -Mention how you will use it or how you will think of the gift-giver each time you see / use the item.
Success = timely, hand-written, & heartfelt!
For accurate reception planning, response cards are essential. The cards are printed with the date to respond by, a line for guests to fill in their names, an area for guests to indicate if they will be attending the wedding reception or not, and if necessary, entrée selections. All I Do!'s response cards include envelopes printed with your return address on them in the price. Both the response card and envelope (with a stamp that you put on the envelope before you send to your guests) are enclosed with your invitation when you send them out. Guests return cards in the self-addressed, stamped envelopes, giving you the information you need to continue your planning. Information necessary on the Response Card
1. RSVP date.
This date needs to be at least one month after the date you send out your invitations and usually 2 or 3 weeks before the wedding so you can give your caterers the final numbers and that you can work on your seating chart. It is acceptable to use just the date or to include the year. RSVP by the fifteenth of May The favor of a reply is requested by May 15, 2021 Please respond by May 15th Kindly reply by May 15th Your reply is requested by May 15, 2021 The courtesy of a reply is requested on or before May 15, 2021 Please respond on or before May 15, 2021 Kindly respond on or before May 15, 2021 The favor of a reply is requested on or before May 15, 2021
2. You need a space for your guests to write in their names so you know who is attending your wedding.
Traditionally, this is done by writing "M" and a line. The guests would write r. and Mrs. John Doe. The "r" finishes the Mr. Alternatively, you can write "Name" or "Name(s)" and a line. M________________________________ Name_____________________________ Names_____________________________ You can add a line under the names asking how many people are attending. M____________________________ Number of persons______________ M____________________________ Persons attending________________
3. You need a space for "Accept" or "Decline" The "accept" and "decline" wording is one spot on the Response Card where you can have fun and get creative.
Here are some ideas to fit your wedding.
Traditional wording
Accepts with Pleasure Declines with Regrets
Delighted to Attend Regretfully Cannot Join You
Graciously accept Respectfully decline
Joyfully accepts Regretfully declines
Accepts Regrets
Delightfully accepts Regretfully declines
So joyful to attend! Can't attend, sending joy your way
Would be delighted to accept Must regretfully decline
With bells on Will be thinking of you
Graciously Accepts _____ of ______ guests Regretfully Declines
Contemporary wording
Are pleased to join you Regretfully cannot attend
Happily accepts Cannot attend
Will be joining the celebration Will be unable to attend
Can't wait to celebrate Best wishes from afar
Can't Wait! Sorry, Wish I Could Be There
We Will See You There! Sorry To Miss Out
Excited to Celebrate with You! Sad to Miss All the Fun
I/We wouldn't miss it I/We can't make it
See you there! Sincerely regrets
Look forward to it! Have to miss the fun
Delighted to attend Sorry, can't make it
Wouldn't miss it for the world Be there in Spirit
Don't despair we will be there Sad to say we'll miss this day
Looking forward to attending Sadly have to miss it
Will celebrate in person Will celebrate in spirit
Will come for sure! Sorry, can't make it
Love to, and will Love to, but can't
Wouldn't dare to miss it! Won't be able to attend, but wish you the very best!
Shall be pleased to accept Unable to accept
Would love to come! Can't make it, sending our love
Wouldn't miss it for the world! Sending our love
Looking forward to the big day Regretfully cannot attend
Funny & Clever wording
Wouldn't Miss It For the World The World is Not Enough
Let's Get Rowdy! Show Must Go On Without Me
Aw, Yeah! Drinks on Me! I'll Be There In Spirit Free booze?
Yes, please In a nutshell I'm lame Yes we'd love to! Sorry, gone fishing
Will eat, drink, and see you be married! Will regretfully decline
Ready to party Can't come
Count me in Count me out
Let the good times roll! Roll on without me
So happy So sad
Hell yes! Oh no!
Be there Be square
Can't wait to party! Unfortunately can't join in
Deal me in Sitting out
Can't wait to party! Bummer! Can't make it
Will see you there! Raising a toast from afar
Good news, we'll be there Bad news; can't make it
Can't wait to be there Party on without us
Let's get the party started! Show must go on without me
Yes! See you there! Sorry! Love to but can't
Can't wait! Can't come!
Can't wait! Can't make it
Heck yes, can't wait to see you there Sadly no, but we have a good excuse Totally Bummer
Can't wait to be there Party on without us
Can't wait to party Bummer! Can't make it
We will see you there Sorry to miss it
Ready to dance Sorry my dance card is full
Let the good times roll Roll on without me
Destination Wedding wording
Bags Packed, Ready to Go! Hate to Say Can't Make It
Our sails are set we'll be there! Sorry, we will be docked somewhere else that day
Yes! Ready & set Sorry, with regrets Wouldn't miss it for the world!
Sending our love My bags are packed Can't find my passport
Sunscreen is packed Toasting from afar
4. Entrée preference. (If you are serving a buffet, you can skip #4.)
If you are serving a plated meal with more than one entrée option, you will need a space for your guests to indicate which meal they would like.
You can list your options and have your guest initial which entrée they are each selecting.
Please initial the Entrée choice for each guest: _____ Entrée Selection _____ Entrée Selection _____ Entrée Selection
You can list your options and have your guests place a number of how many of each entrée they are selecting.
Please indicate number of each Entrée Selection _____ Entrée Selection _____ If you are offer children's meals. _____ Entrée _____ Entrée _____ Entrée All children under X will receive a special meal
/