Close
Shopping Cart
Your Cart is Empty
I know it sounds counterintuitive but before you get your pictures taken for your Save the Date or Wedding Thank You Notes you should select the card first and this is why:
If you select a Save the Date or Wedding Thank You that has a graphic on the side, bottom or top you will want to tell your photographer to off-center the picture so that there is room on the side so your picture is not under the wording. 
Or if the card you select is vertical, horizintal or has more than one picture let your photogropher know!  I promise you won't be disspointed you put the time in now!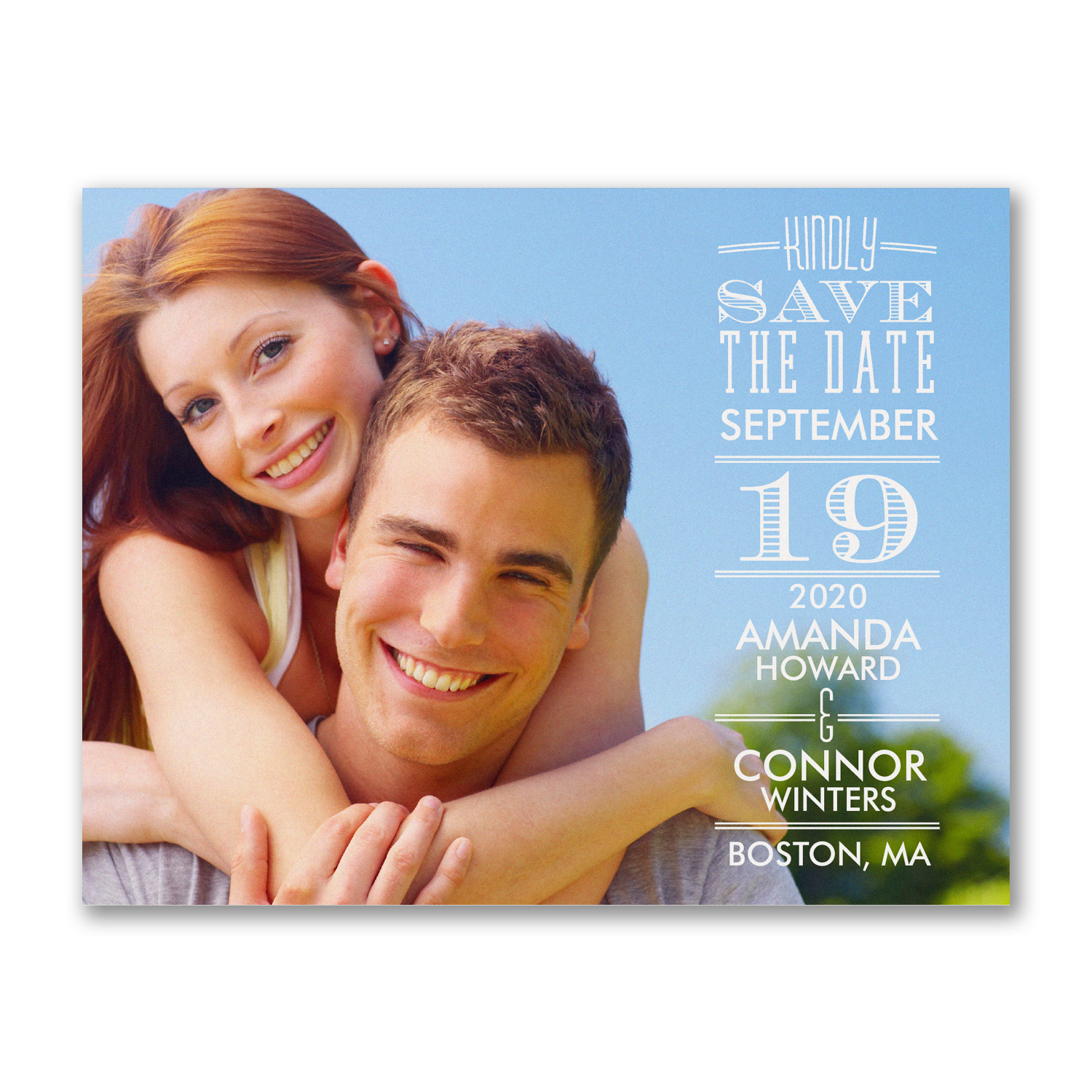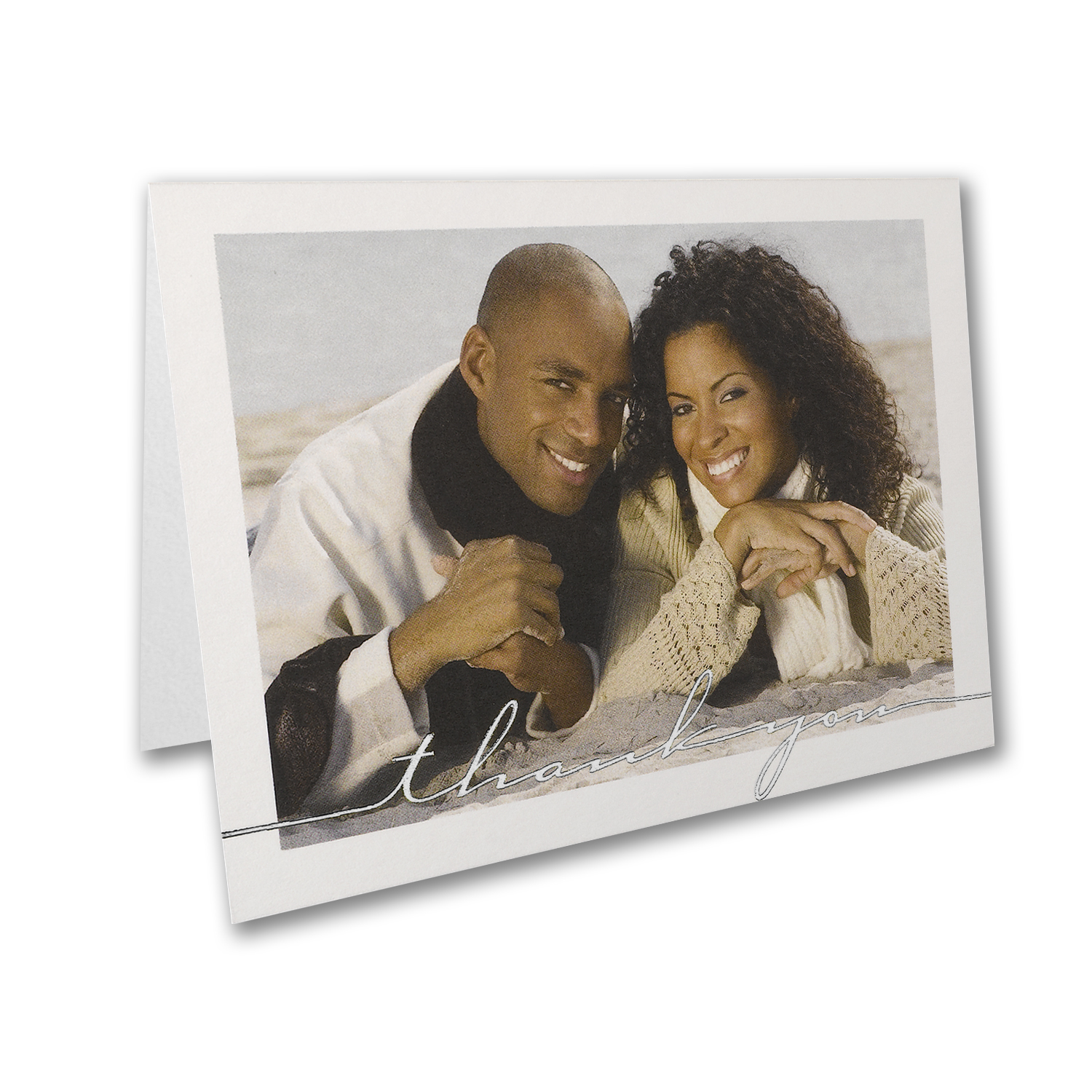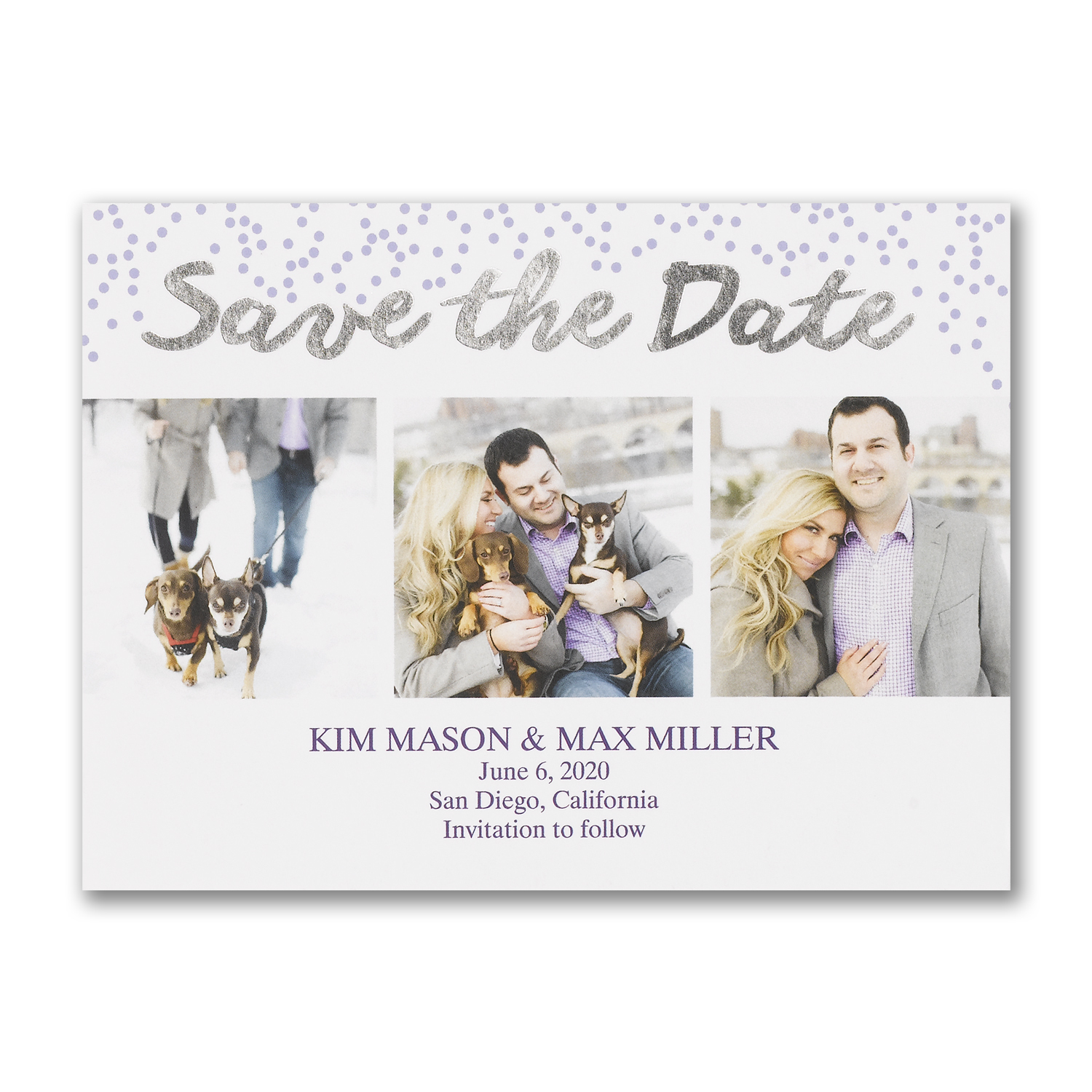 The inner and outer envelope is a tradition.
Years ago mailmen traveled around on horseback, not in trucks, and chances are that your wedding invitation would arrive at their destination dusty, wet, or damaged was highly likely. To ensure it looked presentable, the outer envelope was removed by a butler, maid, or someone else in the household before being presented to the potential guest.
 Difference between inner and outer envelopes.
If you get just outer envelopes it is addressed to the guest and mailing address. And if you get inner and outer envelopes it is addressed exactly to who is invited to the wedding. (Inner envelopes do not get sealed.)
 If you decide to do inner and outer envelopes:
-You can be very clear on who is being invited to your wedding if you use an inner and outer envelope. Inner envelopes help eliminate the potential for any awkward questions about who is invited.
-Having both envelopes are more traditional. If you are having a black tie, classic or formal wedding you may want to have both envelopes to abide by wedding etiquette.
Samples of how they'd be addressed:
Outer Envelope – Mr. and Mrs. Mark Osiecki, Inner Envelope – Mr. and Mrs. Osiecki
Outer Envelope – Osiecki Family, Inner Envelope – Mr. and Mrs. Osiecki, second line - Matthew
The names of children under 18 years old should appear on the inner envelope on the line beneath Mom and Dad's. Start with the oldest child, followed by his or her siblings in order of diminishing age; for anyone 18 or older in a household, send a separate invitation.
Outer Envelope – Matthew Cattie, Inner Envelope – Mr. Cattie and Guest
If you decide to do just outer envelopes:
Put the outer envelope to work by listing the names of every person invited to the wedding. Avoid writing "and Family," which is too vague and could mean extra guests showing up at the wedding whom you weren't expecting or can't afford.
There's no right or wrong way.
If you like the tradition, go for both, but if you worry that an extra envelope is a strike against the environment or an added expense, just use the outer one. It is truly up to you. There's no rule that says you need both inner and outer envelopes, and most guests won't realize you are or are not following tradition.
Either way we will guide you on how to address each envelope with the correct etiquette. And we are always here for any questions!
Question - We sent out invitations for our April wedding at the beginning of March and at the end of March had to postpone to the end of June. We sent "change the date" but we didn't know what would be happening. 
We are hoping to have a cermony and reception at the end of June. Do we have to send new invitations? Is there something simpler we can do to make sure people know our plans and RSVP?
Answer - You do not need to send out new invitations. You already set the stage with your beautiful invitations that you already sent out.
Some things you can do are:
-Send a postcard with the basic information and your wedding website (get one for free if you don't have one already on The Knot, Wedding Wire or Zola). They can RSVP on-line. You could also add a phone number and/or email address to rsvp too (depending on your demographics of your guests). 
-You could also send a Seal n' Send invitation. (See my You Tube video about Seal 'n Sends.) You could send a lot more information then the postcard and get a postcard reply back. (.55 cents to send the seal 'n send and .35 for the postcard reply stamp).
-You could (or have parents help) and call guests to tell them the new information.
-You could email your guests or start a Facebook group for updates.
I can tell you that we have an affordable style line and this is where you will find invitations that start around $200. (For 100 invitations.)
And then the sky is the limit!  If you can dream it, we can do it!
You can look at some other lines by clicking here and here.
 Things to keep in mind that affect the price:
-Quantity
-Are you getting married at your venue (if so you do not need a reception card)
-Type of printing (digital, raised print, letterpress)
-Type of paper (smooth, shimmer and the thickness)
-Do you want them addressed to your guests ($1 per envelope)
Tell us what you are looking for and we can get you an estimate for you.
Also, no matter which invitation you select I will help you with every step and wedding etiquette guidance!
Bridal Show season is going to start again soon and you need to be ready! They are a one-stop shopping – like a Google search, but Live!
**GET READY**
Set up an e-mail just for the wedding-related correspondence. It can be something like [email protected] The wedding e-mail address will help you keep all your wedding planning information together.
Bring a sheet of pre-printed address labels. Put your name, Groom's name, wedding date, address, and e-mail address. Bridal shows have you sign up for information or to win contests so have the labels ready and it saves you from writer's cramp!
Pre-register for the show. By doing that you might be able to get a discount on the tickets (or free) and save time getting into the show.
**GET SET**
Pack a bag to put all the information you can pick up. You might be given a bag when you arrive but sometimes having your own works out better.
Wear comfortable shoes. Some of the shows are in large convention space and you will be on your feet, covering a lot of ground, so wear comfortable shoes to keep your feet happy.
Have a budget and open mind. The wedding industry is a creative bunch always coming up with something exciting and new. Take the time to check out these services to see if they would be something to incorporate in your special day.
**GO!**
Take notes and pictures. You want to remember who you talked with and whose services impressed you even if you are not ready to book right away. The more information you have the easier it will be for you to remember what you liked.
Enter to win! Wedding professionals provide real prizes which are generally geared around weddings so definitely enter to win! (Use those labels!)
Follow up with companies you like. Companies are there to talk to the Bride in person and want to help you achieve your dream wedding by providing quality service. Their calendars, especially after a Bridal Show, book up quickly, so if you see or speak to someone you are interested in follow up with them after the show to schedule an appointment.
Question:
Do I send thank you notes to my bridesmaids, friends and family for my Bachelorette Party even though I did not get any gifts?
Answer:
Yes. Even though you did not get a place-setting or spa gift certificate, Team Bride put together this special time for YOU before your wedding day. They will appreciate the time you took to reflect on your time together during your Bachelorette Party!
Question:
When should we make our response deadline for our RSVPs?
Answer:
We recommend making your RSVP date around three weeks before your wedding date. This will allow you enough time to get your final head count (and entree count if needed) to your caterer. This will also give you time to finalized your seating chart and get your place cards ready. (I Do! can have your guest's names printed on the place cards during this time too.)
If some guests have not responded by your deadline, you will need to give them a call ask for their RSVP.
Question: How do I know which postage stamp I should put on my wedding invitations?
Answer: I know you will be super excited to get your wedding invitations in the mail and to start getting your responses but slow down for a moment. Take a sample invitation suite (invitation and all the enclosures) to the post office and have them weigh it so you know how much your postage stamp should be put on. Depending on the weigh will determine the stamp you will need. And don't forget you need USPS first class mail stamps for the response cards too! (This step will avoid your invitations being returned to you for insufficient postage.)
And while you are at the post office, please ask them about hand-cancelling. If they can do it for you it means your invitations will be stamped with a hand stamp which will (hopefully) prevent your beautiful invitations from going through the processing machines.
/